The PlayStation 5 is Sony's next-gen gaming console and it goes on sale next month. Last weekend, we saw a hands-on video of the console alongside several minutes of gameplay footage from Japan. Today, Sony released a teardown video that shows the internals of the gaming console.
The 7-minute long video which was posted on Twitter earlier today further confirms how insanely big the PlayStation 5 is. The console which is clad in white on both sides has a USB Type-C port and USB Type-A port in front while the back is home to two USB 3.0 ports (10Gbps), a LAN port, the HDMI out port, and the power input port.
The official #PS5 teardown video is here: https://t.co/u41I2Eh02M

Get up-close and personal with PS5's next-generation technology, a culmination of five years of design and development. pic.twitter.com/ilRJ1itC08

— PlayStation Europe (@PlayStationEU) October 7, 2020
The PS5 is a really powerful console and to keep it cool, Sony has put air vents in front and on the back. The video also shows that the circular base that the console sits on needs to be screwed on if you intend to place the console in a vertical position. In landscape mode, it clips on to the body with the aid of a clamp. Compared to the Xbox Series S and Xbox Series X that can stand and lay on their sides without the need for a stand, the PS5 is a bit too extra.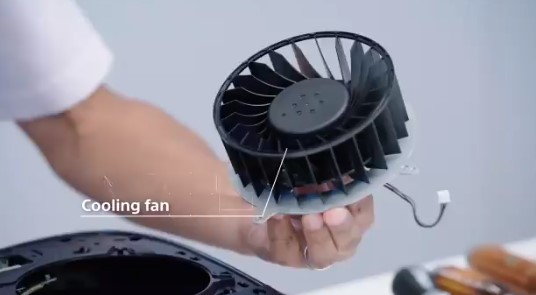 The teardown shows that it is easy to take off those white plates on the sides of the console. All it needs a bit of unclamping at the sides. When removed, you are greeted by a large cooling fan that extends to both sides. There is also a plate that can be removed to reveal a PCIe 4.0 SSD slot for storage expansion.
The teardown shows the SSD storage is soldered on the board and there is a custom 12-channel SSD controller that helps it achieve its blazingly fast speeds. We also get a look at the AMD supplied CPU and GPU, the former which uses liquid metal for cooling.
Apart from when trying to add more storage, there should be no need to open up your console. Nevertheless, if you are curious to know what is inside your latest gaming console, this video should be more than enough or others that will be made by YouTubers when the PlayStation 5 goes on.
We strive hard to prevent all forms of errors in our articles, however, should you detect any error or misinformation on SmileTimes, Contact us.
Subscribe to our RSS Feed here, so you read our latest  publications