want to restrict an author's ability to only post in specific categories of your WordPress site?
Restrict Authors to Specific Category in WordPress
If you have Numerous Authors on your  WordPress Blog, then you definitely want to restrict some Authors to specific categories.
Reasons Why you should  Restrict Authors to a Specific Category
If you have multiple people writing for your WordPress blog, then there is a chance that they may not select the appropriate category.
By restricting authors to specific categories, you can limit the categories they can select. You can even assign an author to post in just one category.
 Restrict Authors to a Specific Category in WordPress
The easiest way to do this is by using the Restricted Authors plugin. For more details, see our beginner's guide on how to install a WordPress plugin.
After you've activated the plugin, go to Users » All Users and then click on 'Edit' for the user profile you want to restrict.

On their profile page, you'll need to scroll to the bottom. You will see a section where you can select categories that you want to restrict the user's ability to post to. In the first box, whatever category you select is what they'll be able to use.
In the field below, you can select a default category for that specific user.

Once you're done, click the 'Update User' button and you're all done.
Now, when the author goes in the WordPress content editor to create a post, they'll see the following on their sidebar: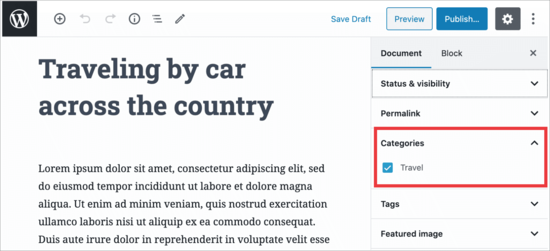 As you can see, there are no other categories that they can select due to the plugin settings we're using.
If you want to restrict their WordPress user role to specific sections or custom post types, then you can use the Members plugin to further customize the permissions.
Thanks for reading. Share with other Publishers
We strive hard to prevent all forms of errors in our articles, however, should you detect any error or misinformation on SmileTimes, Contact us.
Subscribe to our RSS Feed here, so you read our latest  publications